South Asian Film Festival
| Media Coverage
Drive to strengthen regional ties
South Asian Film Festival to be held in Goa
Pallab Bhattacharya, New Delhi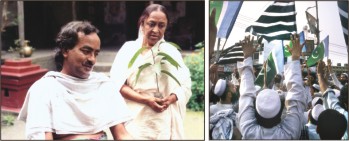 Momotajuddin Ahmed and Rawshan Jamil in Chitra Nodir Parey, one of the participating Bangladeshi films (left) and a scene from Reinventing the Taliban, a documentary by Sharmeen Obaid, scheduled to be screened at the festival.
Sea, sand and palm tree-dotted silvery beaches -- that is what the western Indian state of Goa is known for. It has become the permanent venue for the prestigious International Film Festival of India for the last three years and the state is now all set to host for the first time the South Asian Film Festival where young Bangladeshi director Razibul Hossain's feature film "Unadittya" will see its world premiere later this month.
The third edition of the South Asian Film Festival to be held in Panaji, the capital of Goa, from June 27 to 30 will also screen some other films from Bangladesh: "Shomapti" (by Tanveer Hossain), "Auction" (Zakir Hussain), "Ami Shadhinota Enechhi", "Chitra Nodir Parey" (by Tanvir Mokammel), "Hothat Dekha", "Matir Moina" and "Ontorjatra" by Tareque and Catherine Masud.

South Asia is a distinct cinematic entity: Shyam Benegal
PANAJI: Noted filmmaker Shyam Benegal feels that South Asia is a distinct cinematic entity. "Our films focus on societal and individual
concerns. If we target a select audience, it amounts to circumscribing our own creative ability and impulse. Hence, there are no boundaries amongst ourselves. Our films highlight cultural specific cities," Benegal said.

He was speaking during an interaction with filmmakers from South Asian countries at a seminar "dissolving boundaries" as part of the ongoing South Asian Film Festival (SAFF) on Saturday.